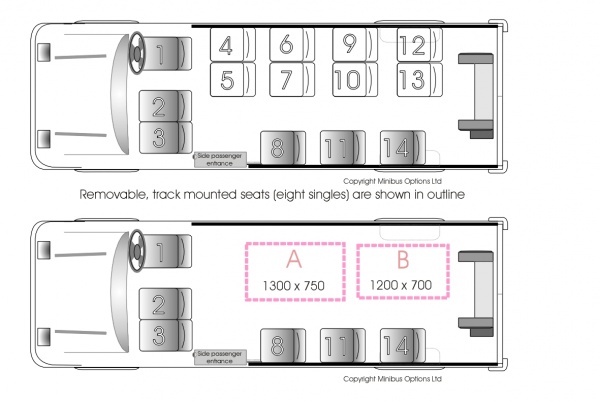 The Buses
We currently run two 14 seater custom built diesel Minibuses capable of carrying 13 passengers and a driver both equipped with hydraulic rear wheelchair lifts and a selection of additional seat belts and fixings to cover a wide range of disability issues.
Both buses are normally accessed through the side sliding door which is equipped with folding handrails and a folding step. Hand holds are built into all seat backs to aid passage through the vehicle. All seats have full seat belts which should be worn at all times. The passenger area is equipped with a separate heating system and lighting to ensure passenger comfort at all times.
Wheelchair passengers and minibus seating
We are very happy to take passengers in wheelchairs on our minibuses. It is however important to ascertain in advance whether the wheelchair user is able to get in and out of the minibus seats on their own or must remain in their wheelchair.
If the wheelchair user can, by their own efforts and with no physical lifting by an assistant, get out of their wheelchair and into the minibus seat, then we consider them to be just another passenger. In terms of seating they occupy one of the normal passenger seats- 13 maximum, 2 of which are in the front of the minibus (accessed by a fairly high step.)
If the wheelchair user must remain in their wheelchair because they are physically unable to transfer from the wheelchair to a minibus seat them we need to remove seats from the main cabin in the bus.
Hirers should refer to the schematic diagram of the bus layout, bearing in mind that each wheelchair carried (maximum two) requires the removal of pairs of seats. This means the capacity of the bus is reduced (by removing seats 9-13) to one wheelchair plus nine other passengers (option B above) or ( by removing seats 6,7 9 -13) to two wheelchairs and seven others (option A + B above).
It is to be reiterated that we are more than happy to take wheelchair users on the minibuses. However in planning the journey and making a booking it is essential that the staff at the minibus office are informed what are the hirers seating requirements. When planning your journey please bear in mind that it can take up to an extra 10-15 minutes to safely secure a wheelchair into the minibus.
Storage
With the full complement of 13 seats occupied there is not a lot of additional storage room, we can however accommodate 2 fully collapsible wheelchairs at the back of the minibus or 2/3 folding wheeled walking aids.
The hirer of the bus must ensure that their public liability/employers liability insurance is extended to provide cover for the driver whist carrying out duties for the hirer of the minibus for the duration of the hirer.